Responsible Travel Tips for Things to Do in Kuching
"GO 
Fly, Roam, Travel, Voyage, Explore, Journey, Discover, Adventure 
BE RESPONSIBLE"
Tale of 2 Backpackers
***
Travellers have long been coming to Sarawak for her nature and cultural experiences. Almost by default, such experiences demand a degree of responsibility to enjoy them. To minimise negative environmental impact. To be sensitive… to local sensitivities. Or to improve the economic well-being of host communities. If not, tourism won't be sustainable.
Hence, the notion of responsible travel is not a new phenomena for Sarawak. It has always been in everyone's interest to maximize compliance.
***
Sarawak has 47 national parks, 15 nature reserves and 5 wildlife sanctuaries. They make up 1.9% of Sarawak's total land area of 124,450 km². (as of Nov 2020). Only 10 national parks and 8 nature reserves are open to the public. 
***
To travel with a responsible mindset is a self-empowering behavior. Everyone can do it. But it differs from one destination to another.
This blog will, thus, show how your travel responsibility can impact the attractions you visit.
As this article relates to things to do in Kuching, we will only cover  attractions in and around the city.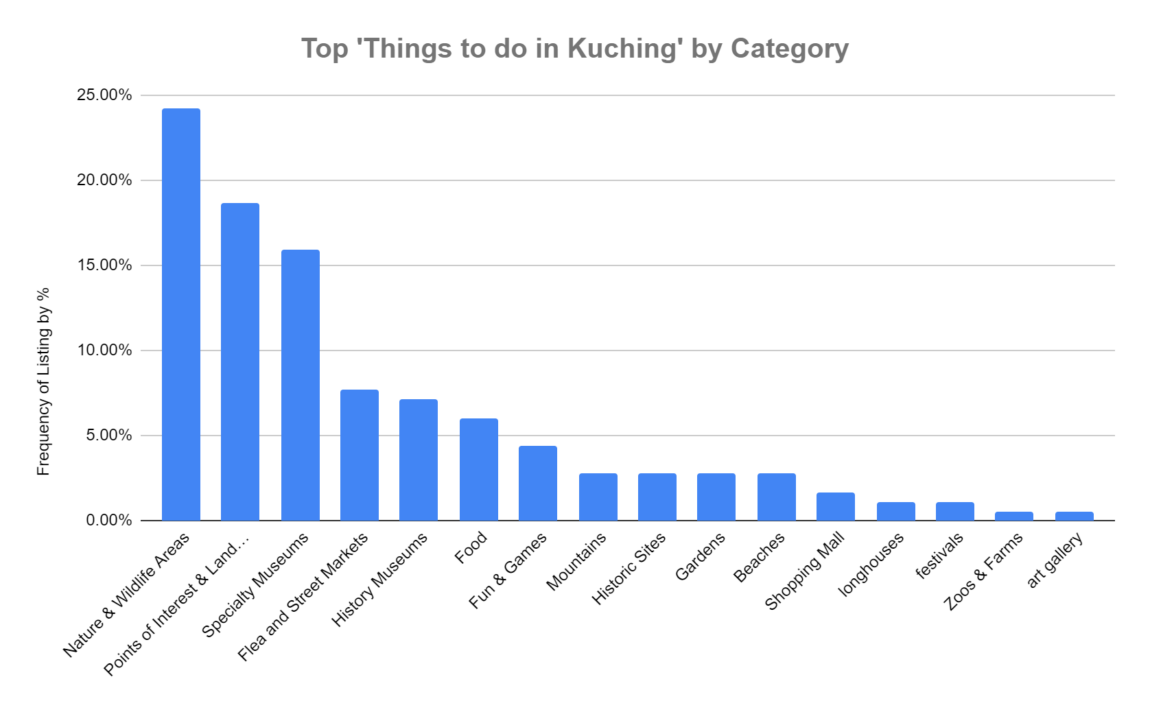 1. Minimise Your Footprint
Use reusable water bottle


To say, it gets hot and humid in the tropics is an understatement. Staying hydrated may not be your norm. But it's important health advice. So travel with your own water bottle. Stainless-steel or glass bottles may weigh but being responsible far outweighs the inconvenience. If you have to carry a plastic bottle, a good reminder is to…

Bring back your rubbish


Kuching's nature-based attractions are often far from built-up areas. It means the waste collection schedule isn't as regular in comparison. Thus by making a point to bring back your rubbish you lighten the bin load at these places.

Stay on the path


Our national parks and nature reserves have well-marked trails.  So that you don't trample on protected plants such as pitcher plants. As important, you stay on the beaten path to find your way back to park headquarters.

 
***
Kuching has 4 national parks and 4 nature reserves that are open to the public. They respectively take up 40% and 50% of the Sarawak count. These natural attractions lie within a 93-km radius of the city.
***
Kuching has two scheduled bus services that run on renewable energy. They stop at and near a few top attractions.  Both currently offer free rides. (as of July 2022).
The Kuching Metro city bus stops at Semenggoh Nature Reserve for the orangutan feeding sessions.  But this needs ample lead time to make the journey for the two daily feeding sessions. A more convenient option is to take a package tour. You can download the Kuching Metro apps at: Google Play. App Store. AppGallery.
The H2 (hydrogen fuel) bus has two lines: the Damai Loop and the Downtown Heritage line. Being at a trial run stage, disruption to service may occur now and then. Thus, their app is the best place to stay updated on service level. You can download the H2 apps at Google Play and App Store.
The Downtown Heritage line stops at or near:
The Kuching Waterfront
Satok Market and Kubah Ria Food Court

The Chinese Museum

Wisma Satok Shopping Mall

Plaza Merdeka Shopping Mall
The Damai Loop covers Damai Central and the Sarawak Cultural Village. It includes a stop near the largest museum in Malaysia, the Borneo Cultures Museum.
But for most part, downtown Kuching is compact enough for a walking tour. The Old Kuching Bazaar is a do-it-yourself walking tour.  Take your time to soak in the 200-year intangible cultural heritage of the area. Here is the walking tour map to download from.
For sure, the best propulsion at your disposal is to cycle. A bicycle takes you further. And there are a few cool things to do in Kuching on a bicycle.
And from Kuching as your starting point, do the epic 15-day Trans-Borneo Road Bike holiday. Two countries, eight international crossings and 1,370 km of road riding. One can argue this is an extreme but rewarding form of reducing CO2 emission!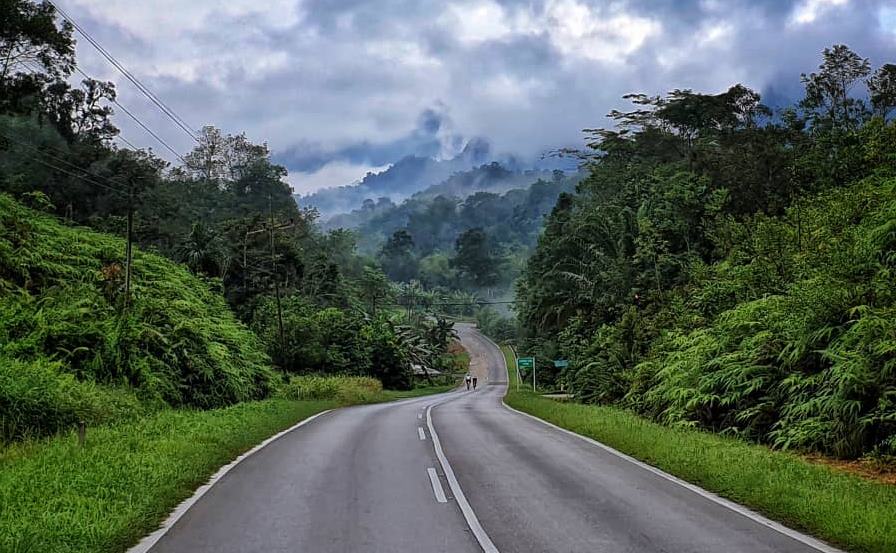 2. Minimise your noise level
Without a doubt, minimising noise level is part and parcel of a wildlife experience. The proboscis monkeys at the Kuching Wetlands National Park are easy to spot then. The same applies at Bako National Park. The silver-leaf monkeys and bearded pigs roam this oldest national park of Sarawak.
Follow the warden's instructions at the Semenggoh Nature Reserve. Keep your excitement in check when the orangutan/s swing down from the jungle top to feed. And be still should one decide to saunter by you. They are semi-wild mind you. Come to think of it, it's best that you back away slowly, especially from the adult ones.
***
Malaysia has 55 Important Bird Areas (IBAs). Sarawak has 19 of these IBAs, the most number. Kuching alone has 6.
***
3. Buy local
When it comes to buying souvenirs, here are a few ideas to consider.
These are some of the outlets in Kuching to buy handicrafts that Sarawak artisans make.
4. Be sensitive to local cultures
In particular, our respective cultures dictate the type of sensitivities to respect. At the popular Kuching Waterfront, drinking alcohol in the open is not allowed. If you need to quench off after a hot day, the James Brooke Bistro and Kuching Old Bazaar along the stretch is the place to go to. For a glass or two.
Jungle taboos abound as well. Your guide will tell you what they are. But generally, shouting or cursing is frowned upon. If you need to take a leak or dump, ask for 'permission'. You may be doing it near the spirit of the jungle. This may sound a bit of a stretch but this is the whole point of this paragraph.
When you are at the Kuching Mosque, respect the prayer call time. Stop and listen like what a muslim is obligated to do. Dress in a modest fashion and remove your shoes before you enter the prayer area.
At Annah Rais longhouse, respect the privacy of residents. For eg. get permission to take their photos or peer into their dwelling/s.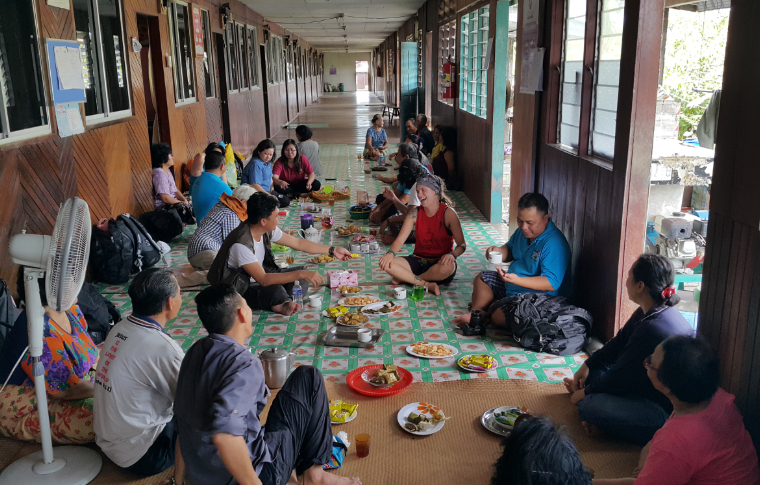 5. It's what you do in rural Kuching that carries more of the ethos of responsible travel.
You can have meaningful connections with host community through a community-based tourism (CBT) programme. You will go away with greater understanding of social and environmental issues. Not to mention the positive impact you leave for others to enjoy.
Desktop research for a do-it-yourself tour involves planning from disparate information. But pertinent information is often not found online. This is where a tour service provider like us will help you 'cut to the chase'. Our intimate ground knowledge removes a lot of guesswork.
In doing so, we cultivate long-term relationships with our communities. We involve them in decisions that affect their lives and life changes. A win-win situation.
At  Silabur Cave you can help the host community to construct bridges. Maintain rope work or the trails. Give signages fresh coats of paint. The caveat here is that a CBT programme is a group activity. It is popular with gap year students. The cave is known for its stunning limestone cave structures and chambers. When not in a group, you can do adventure caving as a couple. And make use of the homestay in the village.
We design our tour programme to support rural service providers. Our cycling holiday programmes include an overnight stop at Siniawan Old Bazaar. This is where you get to stay the night at a unique Asian shop lot guesthouse instead of a city hotel.
Our frog hunting activity at Kubah National Park is not everyone's cup of tea. But this fun activity is our responsibility to embrace the diversity of our rich fauna. Btw, till it was overtaken, the world's smallest frog can be found here. The size of a pea!
Over the years, we have developed a mutually beneficial relationship with a kayaking operator at Padawan. They have, since, gone on from strength to strength. This is reflected in better facilities such as shower stalls and toilets. Importantly, they have created employment for the youths from the neighbouring villages. 
6. Build community pride and confidence
English may be widely spoken in Kuching and Sarawak for that matter. Nonetheless, learning some basic phrases and questions helps you to connect with her people better. When you come across those who practice responsible travel ethos offer them a kind word of two. Or share your experience of best practices in other countries to empower them more. 
Travel has outlived the often quoted 'take only pictures leave only footprints' adage.
Today, it's empowering the community to benefit the environment in an economically sustainable way. It takes two to make responsible tourism work.
Brought to you by Team Paradesa