Things to Do in Kuching on a Bicycle
There's no better way to experience things to do in Kuching, Sarawak, Malaysia than to do them up close.  A seat-in-coach tour does not do justice for a city that is compact with a laid-back charm like this city.
Your obvious choice is to take a walking tour as the pace is slow and measured. But a bicycle will enable you to visit more unusual places. Thus increasing your fun factor up by a few notches.
This city offers you this without you going out of the way to enjoy it.
Kuching city is Sarawak's capital located on the south western part of Malaysia Borneo. This compact city of 500,000 is replete with colonial heritage, flavours and sights.
It is an hour and thirty minutes by air from Singapore and an hour and fifty minutes from Kuala Lumpur. Both journeys are non-stop flights.
Where're the fun things to do?
Recall the time when as a kid the joy to be had feeling the breeze blowing into your face from a moving car. Or out in the open sea on a sailing yacht or cruise boat.
But throwing in a 19th century era boat (penambang) crossing the Sarawak river with your bicycle is a great talking point with your friends and relatives. This soothing 5-minute crossing connects the north and south bank of the city. The Kuching Waterfront dominates the south bank where as the Malay kampungs line the north bank of the river.
These days, there is an impressive 355m long Darul Hana foot bridge. We recommend that you do this close to sunset. When mother nature cooperates, a photo op here is memorable.
If not, the vista of the north and south bank of the Sarawak river from 10m up is.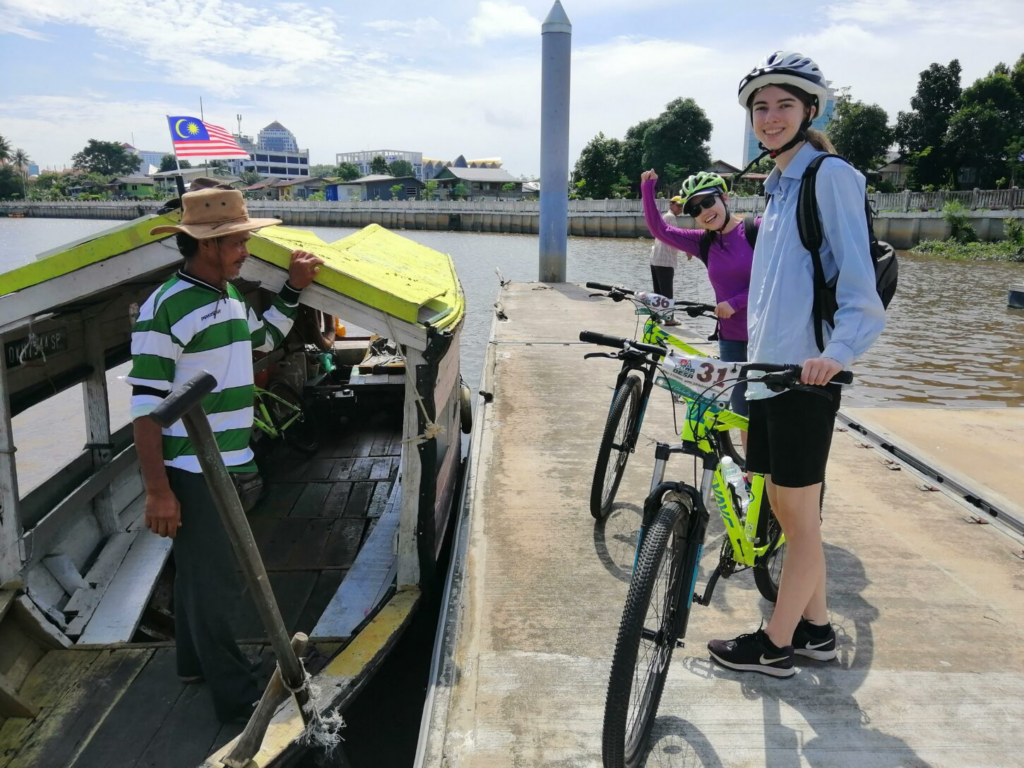 Explore the nooks
The Indian City Mosque (1834) tucks away in a narrow lane off  the India Street mall. It tells of the long history of the Indian diaspora in Kuching. They have carved out a living selling textiles and spices in the area, a little India if you will.
The narrow passageway is a 900m pedestrian stroll and the lane connects two busy old world streets of the city; India St and Gambier St.
The mosque has since moved on to a beautiful landmark built on top of the Sarawak river.
You never have to go far from the city center to get off the beaten track. Within a 3-km radius from the Darul Hana bridge, lies many traditional Malay kampungs (villages). Calmness descends upon you as you meander the quiet roads and back lanes of these kampung.
The Sarawak river is always not far from your sight. It evokes nostalgia for those who grew up in this sort of environment.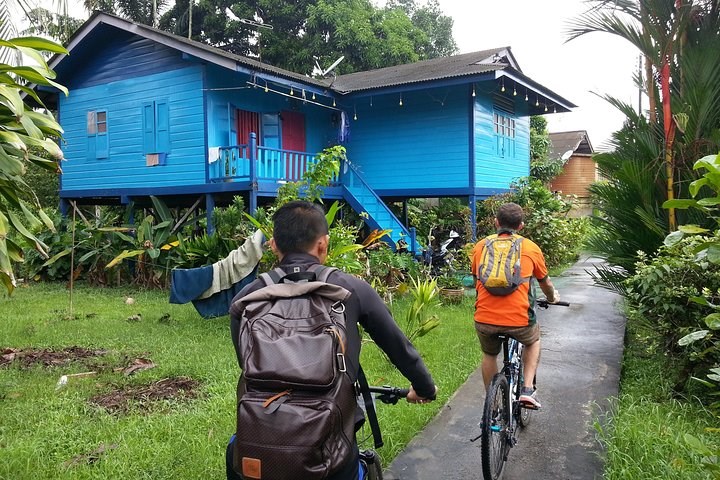 The more mileage you do, interesting anecdotes of the place start to reveal itself. Take the 3.5-km  Kampung Nombor (numbered village) stretch for instance. The British administrator at that time gave each kampung a number, from 1 to 6. Instead of using their proper names.
And this was how the kampung lined up.
Kampung No.1 – Kampung Munggu Kubur/Kampung Segoleng
Kampung No.2 – Kampung Bintangor and Kampung Bandarsah
Kampung No.3 – Kampung Muhibbah
Kampung No.4 – Kampung Muhibbah
Kampung No.5 – Kampung Sungai Lajim
Kampung No.6 – Kampung Patingan
Definitely more administrator friendly without the mental gymnastics with syllables.
There is well-preserved traditional Malay architecture  of wide awnings, intricate lattices and high windows. This historical enclave of Kuching is also the bedrock of Sarawak's political history. Not to mention the birth place of who's who of Sarawak's civil service.
Cool things to do in Kuching with the Community
Sarawakians are a welcoming lot. You will find them eager to share their life with you or take an interest in you. Do not be surprised if a proud parent invites you into their child's wedding celebration. Or an enthusiastic Malay gentleman invites you into his 'open house' during the Eid-fitr celebration. It is known as Hari Raya Puasa in Malaysia.
Kids use kampung roads for playtime and getting into an impromptu race with them is fun, done in a safe way of course. If your own kids are in tow, there is a new world to learn from .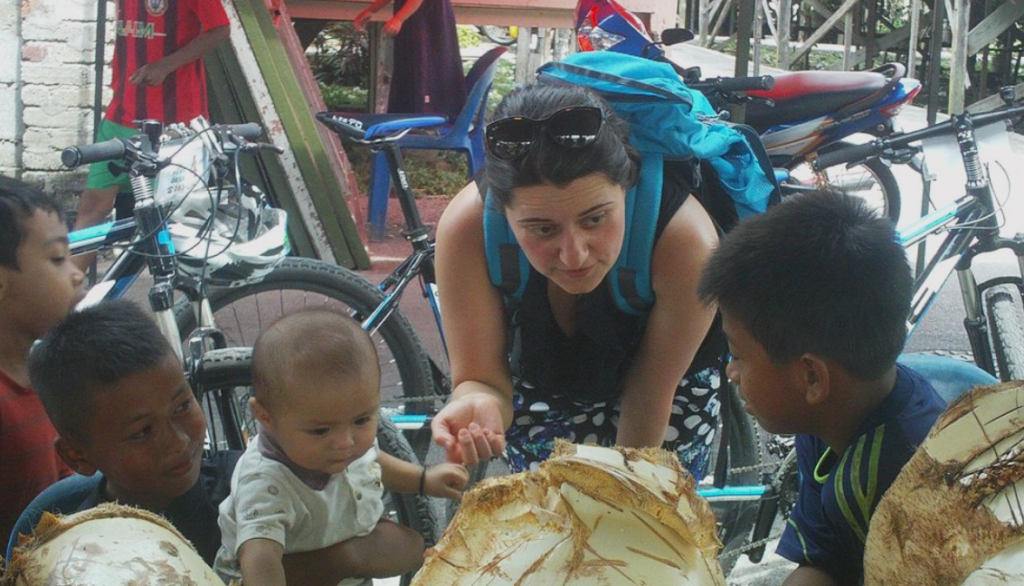 The local market is always the best place to discover your tolerance for exotic food. Ask the trader what the wriggly creatures in the box are and he'll give you a sago worm to eat… raw! There is 'safe' food to savour for sure.
Like tropical fruits to refresh the palate after a sweaty ride. Rambutans, rose apples, pomelos or dragon fruit to name but a few.
For the savoury taste, there are the iconic Sarawak laksa and kolok mee.
Talking about food, you might even want to learn how to cook local dishes.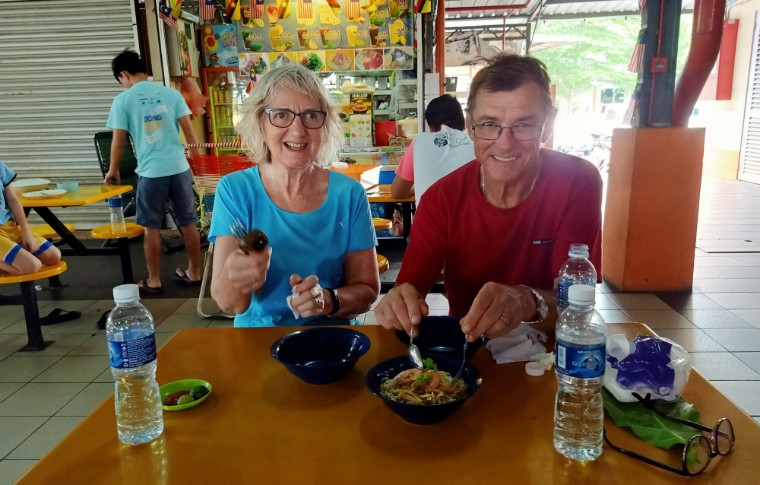 For us at Paradesa Borneo, engaging the local community is a part of our responsible tourism pack. An example of this is our partnership with a ferry (penambang) operator built over the years.  His reliability and leadership has enabled us to handle cycling groups big and small.
Doing it safe
While there are no cycling lanes per se, motorists here on the whole are friendly to cyclists on the road. Part of this reason is due to the positive efforts of the two city commissions to get their residents on a bicycle.
There are three purpose-built cycling routes in the city for recreation. The Kuching North City Commission organises a car-free morning ride at least once a month. We hope they continue to do so.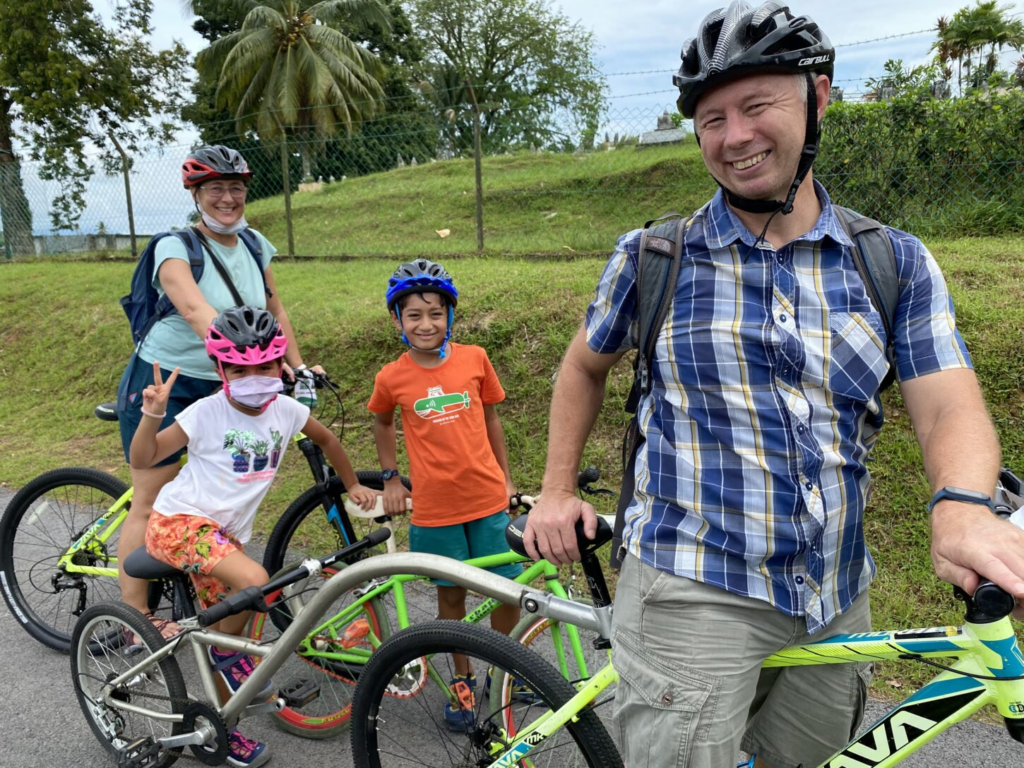 For families with kids, the quieter roads on the north bank of the river maximises the safety level. We customise our tour programme around this factor.
"We have done numerous tours all over Southeast Asia. So much so that we try to avoid them because they don't usually meet our expectations anymore since we've seen so much. For us, this tour got us out of the city into the kampongs into areas we wouldn't find on our own. Our tour guide was excellent with relating to us and answering our questions. She was awesome and I think our favorite part was just talking with her at the dinner at the end so we can ask about her life growing up and the past and present of sarawak. We definitely loved every bit of the ride and how nice the locals are as we pass through their homes."
                                      JohnkS7747SM, Milwaukee, Wisconsin

Your option
Indeed, having the mobility to go places requires proper planning and scheduling. And map service platforms have made self-discovery tours more convenient and cheap. If time isn't on your side, we have a selection of organised day tours for you to choose from.
Here is a quick list of the attractions to visit.
The Bako National Park
The Sarawak Cultural Village
The Cat Museum
Fort Margherita
Now that a day cycling tour has whetted your appetite, you may like to keep your wheels turning, exploring your unknown corners of Sarawak. We run scheduled departure and join-in tours throughout Sarawak and Sabah year round. Contact us.
Brought to you by Team Paradesa Borneo
Published: 23 June 2022