Day Trips From Kuching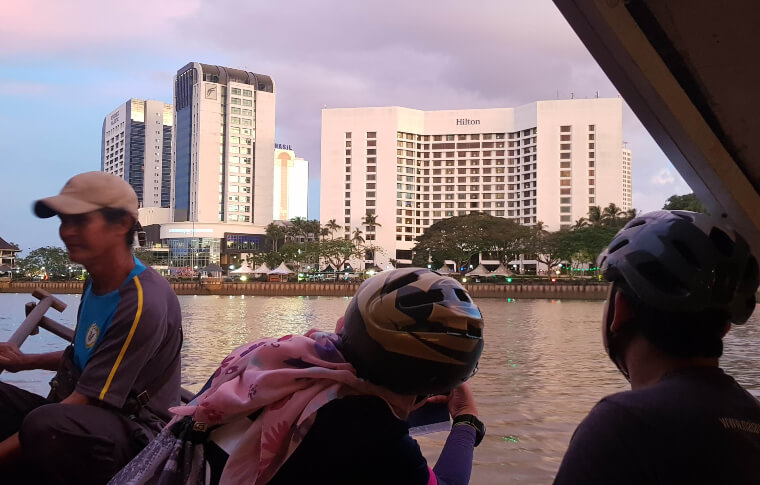 If you happen to be in Kuching on a work or conference trip, this capital of Sarawak is an ideal base to explore from. As a digital nomad, the city's surrounding area has a wide enough selection to cater to your interest/s.
In this blog, there are 32 tours and activities to choose from. True to Sarawak's tourism offerings, most are nature and culture-based. But this list isn't an exhaustive one. What we have highlighted here represents the top things visitors do when they are here. Not to mention to the locals as well.
Most of Kuching's top tourism attractions lie within a 95-km radius of the city. The furthest road distance is 137-km to Telok Melano beach. For consistency, our reference starting point in the city is the Kuching Waterfront

Kuching Places of Interest Map
This Google Map should give you a sense of where the attractions are. We have also curated photos and videos of the respective attractions to go with the markers. Applicable website addresses and contacts are available within the map pins.
Google Map Illustration of the attractions listed in the tables below.
To help you along, we have organised our tabular data based on what are doable.
Jump to more information here:
We have included the transfer time to give you an idea of the total travelling time. This should enable you to build a buffer in your schedule. For instance you may want more time at a place than expected yet wish to get back to the city in time.
For quick reference, we have sub-categorised the list based on your interest/s.
Note that some attractions can involve more than one activity. For example, the wildlife and hiking activities at Bako National Park (NP) go hand in hand. 
Also, you can couple two different attractions if the logistics allow it. Such as combining Semenggoh Orangutan  and Jong's Crocodile Farm feeding sessions.

Day Excursions
| # | Interest | Attractions - Full Day Excursions | Total Transfer Time |
| --- | --- | --- | --- |
| 1 | Culture | Mongkos Longhouse - one of the two surviving traditional Bidayuh longhouses in Sarawak close to the Malaysia - Indonesia border. | 4hr 18min |
| 2 | Hiking | Bako NP - the park with the most extensive trail system. 16 colour-coded ones from short and easy jungle walks to long hiking ones. Take your pick. Can combine with wildlife spotting. | 1hr 40min incl boat tripv |
| 3 | Hiking | Gunung Gading NP Waterfall Trail - fairly easy trail ranging from 1 to 1.5 hours one way. Best combined with waterfall experience and the rafflesia tuan-mudae viewing. (when in bloom) | 3hr 20min |
| 4 | Hiking | Bung Muan aka Mt Serumbu (500m) - a technical climb over rocks and slippery surface when wet. It takes an average of 4hr 20min over a 5.9km out-and-back trail. It is the site of James Brooke (first white Rajah (King) of Sarawak) Cottage and the research ground of the great naturalist, Alfred Russel Wallace. A good place to view the second largest flower of Titan aroids, the Amorphophallus hewittii. It is endemic to Sarawak. | 1hr 20min |
| 5 | Hiking | Mt. Santubong - located within the national park of the same name, this is a 810-m hard climb with a steep last section. There is a waterfall nearby. 6.6-mm out-and-back-trail. It takes an average of 3hr 40min to complete. | 1hr 20min |
| 6 | Hiking | Mt. Serapi (675m) - the highest peak in Kuching. Basically a walk-up mountain on a 9.8-km out and back paved road. Takes an average of 4-5 hours to complete. Can combine with activities in Kubah NP as this where the mountain lies. | 1hr |
| 7 | Birding | Gunung Penrissen Important Bird Area (IBA) - Sited between 850m to 1300 m in elevation. Sub-montane Bornean endemic birds such as Pygmy White-eye, Chestnut-crested Yuhina, Bornean Barbet, and Mountain Serpent-Eagle. | 2hr 48min |
| 8 | Wildlife | Bako NP - the iconic Proboscis monkeys, silver leaf long-tailed macaque, silvered langur, plantain squirrel, Bornean bearded pig, monitor lizards, green vipers and diverse birdlife. | 1hr 40min incl boat trip |
| 9 | Nature | Gunung Gading NP Park Rafflesia Tuan-mudae bloom - the world's largest flower that takes 9 months to mature and blooms for 4-5 days before decaying. Gading.my provides regular updates of buds waiting to bloom. | 3hr 20min |
| 10 | Waterfalls | Gunung Gading NP Waterfalls 1, 3 and 7 are accessible to visitors. They form part of the hiking activity. | 3hr 20min |
| 11 | Kayaking | Kampung Danu to Kampung Semadang - the premier kayaking grounds of Sarawak. Clean river and great cultural (Bidayuh) and nature experience. | 1hr 50min |
| 12 | Bamboo Rafting | Kampung Peraya - Raft down a clean shady river with lunch cooked on the riverbank for you | 1hr 50min |
| 13 | Caving | Silabur Cave - Beautiful jade-coloured mountain caves with secret chambers. Marvel at amazing limestone structures such as the 'Cathedral columns'. Stand in awe of nature's awesomeness. | 3hr 20min |
| 14 | Waterfalls | Kampung (village) Sting Curtain Waterfall - Take a scenic ride across a tranquil lake to reach the Bidayuh village. The picturesque landscape enthrals you as much as the waterfall that is a 45-min hike away. | 2hr 35min incl return boat trip to Kampung Sting. |
| 15 | Beach | Sematan Beach - a 12-km stretch white sandy beach with a wide shoreline. Two beach resorts close to each other with showers and changing facilities for an entrance fee. | 4hr |
| 16 | Snorkelling | Satang Island NP - Green turtle conservation hatchery surrounded by crystal clear water to view the island underwater ecosystem. | 4hr incl return boat journey. |
| # | Interest | Attractions - Half Day Excursions | Total Transfer Time |
| --- | --- | --- | --- |
| 17 | Culture | Sarawak Cultural Village - a multi-award winning must-visit living museum to get insights of the main ethnic groups of Sarawak. Watch cultural performances: 11.30am and 4.00pm daily Attractions | 1hr 30min |
| 18 | Culture | Annah Rais Longhouse - the other of the two remaining Bidayuh traditional longhouses. This one being nearer to Kuching. Can combine with Semenggoh orangutan viewing. | 1hr 30min |
| 19 | Hiking | Mt. Singai - a pilgrimage mountain for the Catholics. Steps lead all the way to the chapel (228m) but some rope work along a trail to the summit (562m). Here is another opportunity to see the rare Amorphophallus Hewittii plant. It takes an average of 3hr to complete for this 3-9-km out-and-back summit trail. Shorter if you do the chapel turnaround section. | 1hr 24min |
| 20 | Hiking | Beccari Discovery Trail - Named after the Italian explorer and botanist, Odoardo Beccari. He had his field house here to study the trees, insects and fungi. This 6.4-km out-and-back paved trail is the same as the Sri Maha Mariamman Hindu Temple trail. There are 12 interpretation boards of animals and plants one can see. The trail takes an average time of 1hr 50min to complete. | 1hr 20min |
| 21 | Birding | Semenggoh Nature Reserve - lowland birds including the rare Long-billed Partridge. | 1hr 10min |
| 22 | Birding | Bako-Buntal Bay IBA - one of the world's 9 flyways of migratory waterbirds. This one is known as the East Asian-Australasian Flyway. 10% of the threatened Chinese Egrets stop here. There are 27 other species of migratory birds that stop here. (October - April every year).The elevated esplanade platform is a convenient place to witness the spectacle. | |
| 23 | Birding | Kubah NP - A number of endemic species including Bornean Banded Kingfisher, Bornean Wren Babbler, and Blue-banded Pitta can be found here. | 1hr |
| 24 | Wildlife | Semenggoh Nature Reserve - Orangutan feeding sessions 9:00 AM – 10:00 AM & 3:00 PM – 4:00 PM. Can combine with other areas of interests of the nature reserve. | 1hr 10min |
| 25 | Wildlife | Kuching Wetlands NP Cruises - Crocodiles, Proboscis Monkeys and Irrawaddy Dolphins. Highlight of the evening cruise is the beautiful sunset view from the river. Cruises can be done either in the morning or evening. | 1hr 10min |
| 26 | Nature | Semenggoh Nature Reserve - Botanical Research Centre - Orchid nursery, ethno-botanical gardens, a fruit orchard, fernarium and a bamboo garden. | 1hr 10min |
| 27 | Waterfalls | Kubah NP Waterfall Trail - a popular waterfall near Kuching. It is a 6.4-km out-and-back trail that takes an average of 2hr 35min to complete. Good opportunity to combine hiking and bird watching activities along this trail. | 1hr |
| 28 | Caving | Fairy and Wind Cave - Fairy cave is the bigger of the two and requires walking up a 5-storey flight of staircase. Wind Cave is a flat walking experience of showcaves. A headlamp or a torch is useful here. | 2hr |
| 29 | Beach | Damai Beach - a beautiful beach setting at the foothill of the legendary Mt. Santubong. The resort properties in the area restrict public access. But for a small entry fee, one can access the beach via the Permai Rainforest resort. You get changing and shower facilities for it. The Sarawak Cultural Village is a stone throw away from the beach. | 1hr 50min |
| 30 | Crocodile Farm | Jong's Crocodile Farm and Museum - crocodile feeding sessions are at 11am & 3pm daily. | 1hr 30min |
| 31 | Food | Siniawan Night Market - a popular alfresco food bazaar stretched along a closed-out street of the historical town of Siniawan. It is just a stone throw from Mt. Serumbu. | 1hr 20min |
| 32 | Shopping | Serikin Weekend Border Bazaar - an open-air shopping strip where Indonesian traders from Kalimantan come over to sell their signature wares and crafts. | 2hr 32min |
*The embedded customised Google map above contains pictures and directions to the respective places.

Moving About
It must be noted up front that save for a few attractions, mass public transport to these places are lacking. The total transfer time shown in the tables above is on a point to point basis. In other words, to  use scheduled transport services may turn a half day excursion into a full one.
Your best bet is thus:
Hire a car 

Order e-hailing service (be aware of round trip availability)

Book a taxi (agree on fare up front.)

Buy an organised tour
The Semenggoh Nature Reserve has a scheduled public transport service via Kuching City Metro. There is a Kuching H2 (hydrogen) bus service to the Damai peninsula. Where the Damai beach and Sarawak Cultural Village are. But you need to check for interruption as this is still on trial operation.
The Bako National Park jetty is well-served by 'kereta sewa' (7-seater van) and bus service. The hub is located next to the Open Air Market near to the Electra House Shopping Centre.

Useful Information
Time is of the essence when making short trips. Hence the operative word is to give yourself a healthy dose of planning and flexibility. Especially when there is a major event in the city or during tourist season (July – September). Everyone will be vying for the same resources in particular among tour service providers.
The northeast monsoon period (November – February) is another consideration. Heavy rain may not deter land trips but it does for boat journeys. Wildlife cruises cannot proceed during heavy rain.
Kayaking activities may be cancelled due to dangerous river conditions. Landslides can close trail or waterfall access in national parks.
Always prepare for afternoon showers and the tropical heat. Pack a rain ponchos and a change of clothes as sweat is the order of the day. For the latter, bring a reusable water bottle to stay sufficiently hydrated. A hat is useful to keep the blazing sun away… And insect repellent to keep insects… read mozzies… at bay.
Be aware that orangutan sightings are not guaranteed as they are semi-wild primates.
Bring back your rubbish as much as you can. This is to reduce rubbish scavenging load in rural places.
As for public transport, we have covered it as a topic above. You may want to download the respective apps if you intend to use them. Kuching City Metro apps at: Google Play, App Store & App Gallery. H2 apps at: Google Play & App Store.


Other Day trips from Kuching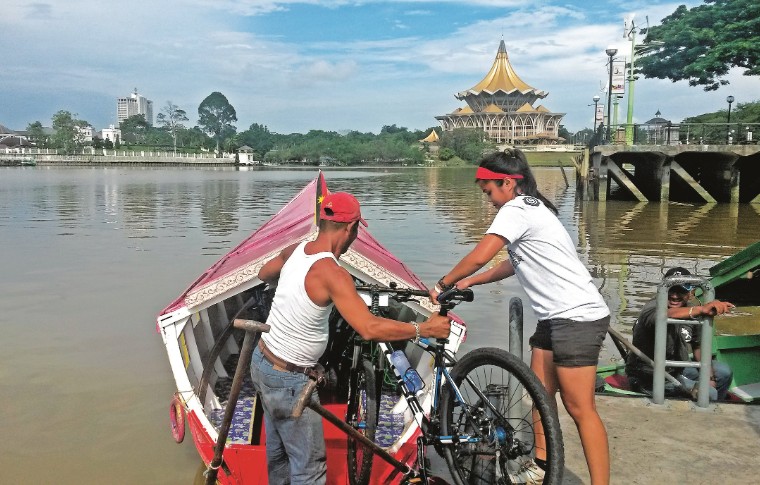 It would be remiss of us not to mention that there is a cool way to fill out your morning, afternoon or evening within the city peripheral. As a pioneer of cycling tours in Sarawak, we have a few interesting Kuching cycling tours to fill your time with. There are 7 kinds to choose from. From heritage tours to Best of Kuching and from sunset tours to a taste of Borneo on bike tours. Booking is done online. Do check us out!
Brought to you by Team Paradesa