Borneo Holiday Frequently Asked Questions | A focus on Kuching
"If I'd learnt one thing from travelling, it was that the way to get things done was to go ahead and do them. Don't talk about going to Borneo. Book a ticket, get a visa, pack a bag, and it just happens."
Alex Garland – The Beach
To say going to Borneo for a holiday can be somewhat of an ambitious idea. 
Yes, as the third largest island in the world, it's often convenient to lump Borneo as one destination. Often, this has to do with the common refrain the West uses when headlining news and stories about the island.
So, let's break the island down for you. 
There are three countries making up Borneo; Malaysia, Brunei Darussalam and Indonesia. 
Malaysia Borneo consists of Sarawak, Sabah and the Federal Territory of Labuan. The oil-rich country of Brunei Darussalam nestled between Sarawak and Sabah. Malaysia and Brunei Darussalam share a common coastline facing the South China Sea.
Kalimantan occupies the Indonesian side of Borneo making up 73% of the island area.
For context, Borneo is 3.06 times bigger than the United Kingdom.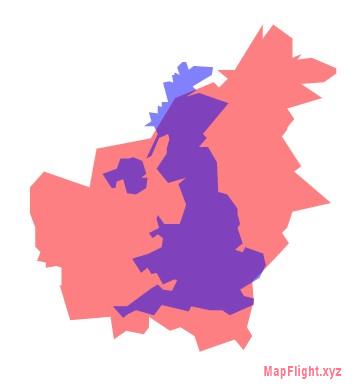 Thus, planning a Borneo holiday is a matter of time and resources. Added to this are how accessible the attractions are and your interests . It will be as ambitious for us to cover all and sundry in this blog. Still, we have provided relevant links to help you with your research.

Direct Flight Map to Borneo
Map showing non-stop flights to major cities and towns in Borneo from Singapore, Kuala Lumpur, Penang, Johor Bahru and Jakarta
For this blog, we have divided it into two parts. The first are common travel questions asked about Borneo and the second focuses on Kuching, Sarawak.
Travel Questions on Borneo
1) How many days do you need in Borneo?
Most tours in the north-western seaboard of the island lasts between 7 and 13 days. They cover Sarawak, Brunei Darussalam and Sabah in different combinations. Shorter duration will give you a more destination focus. There's still plenty to see and do though. As for Kalimantan, it can be up to 16 days.
2) What is the best time of year to visit Borneo?
March to October are the dry months of the year. Showers are common in the afternoon to give some respite. This means the summer months for those coming in from the northern hemisphere. July to August are the super peak season. December is Malaysia's school holiday season, meaning peak season as well.
Temperature ranges from  27°C to 32°C with high humidity. Cool breaks can be had in Kinabalu Parks, Sabah or in the Bario Highlands of Sarawak. There are also snorkelling and jungle waterfall activities to look forward to.
3) Which part of Borneo is best?
Each has their own highlights and overlay of experiences. Longhouses, Mulu World Heritage Site and national parks for Sarawak. Wildlife, beaches and Kinabalu Parks World Heritage Site for Sabah. Dayak culture and Cross-Borneo trek for Kalimantan. And yes, they all have semi-wild and wild orangutans to see. Three subspecies of them.
Then, there's the modern day sultanate of Brunei Darussalam. This country has the only long-haul flight services to Borneo. Their national airline flies in from London, Dubai, Melbourne and Beijing to name but a few.
If you scuba dive, head to Derawan Islands, East Kalimantan. It is in the tentative list of the World Heritage Site. In Sabah there is the world renowned Sipadan Island dive site. The Miri-Sibuti Coral Reefs National Park has some of the most pristine patch reefs in the region.
4) Does Borneo have nice beaches?
Some of the nicest beach destinations are in the South western region of Borneo. Secluded and thus far from the madding crowd. Sematan, Sarawak and; Singkawang and Balikpapan  in Kalimantan. Kota Kinabalu in Sabah has a range of beach resorts to draw in the masses.
5) How do I get around in Borneo?
Flying is the most convenient way to do that. You get to see and experience destination highlights in the shortest time possible.
Where no roads connect, longboat journeys are part of your tour experience. An adventure in itself.
The island highways are undergoing a massive transformation. When connected, the Trans Borneo Highway forms a circuitous route around the island. This is a sample of how an overland tour looks like covering Sarawak, Brunei and Sabah.
Road trips are to be avoided on the Kalimantan side. Intra-city travel is a challenge due to poor road conditions.
These are useful resources to read up on visa and the post-covid travel rules for the respective countries:
6) Should I go to Sabah or Sarawak?
Both of these states of Malaysia have enough attractions to visit on their own. The classic Borneo experience combines the highlights of these two destinations. Please refer to Q3.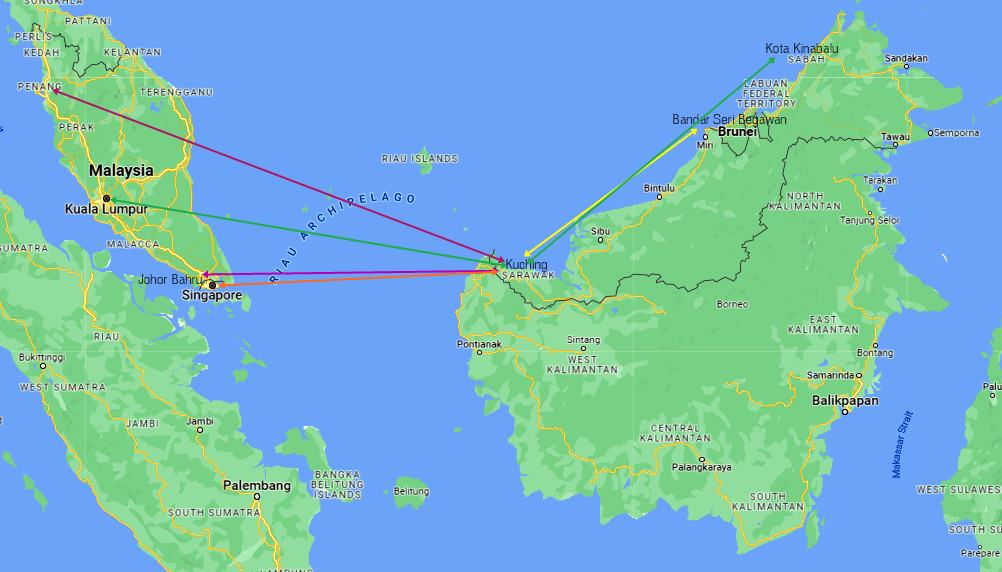 Travel Questions on Kuching, Sarawak
We have curated the following often asked questions when visitors are in Kuching.
7) What are the tours we can join in?
We have 18 tours that one can join-in as long as there is a minimum two to go for the tour in question. The picture below is an illustrative guide to the list of join-in tours.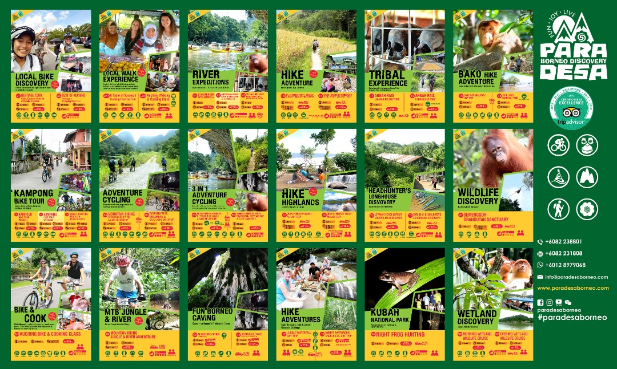 8) Is this tour available?
The 'Book Now' button on our website is an accurate way to check availability for departing tours.
9) What are the national parks we can go to while we are here?
Gunung Gading National Park – when the world largest flower, Rafflesia is in bloom

Semenggoh Nature Reserve – Semi-wild orangutan feeding sessions

Fairy and Wind Cave Nature Reserve – limestone show caves

Bako National Park – See a range of animals in the wild – including Proboscis monkeys and Bearded Pigs

Tanjung Datu National Park – The tip of Borneo, turtle landings and have the beach all to yourself! Most of the time 🙂

Kubah National Park – Frogging

Gunung Santubong National Park – Hike up the 810m mountain
10) What tour can we do with children?
Go cycling in Malay Kampung (village) in the north bank of the Sarawak river

Do frog spotting in Kubah National Park. This is a night activity.

Explore Wind Cave

Watch orangutans enjoy their feeding session

Visit Annah Rais longhouse

Go on a wetland wildlife cruise to spot proboscis monkey and crocodiles

A Kuching city walking tour is suitable for younger children. The Bako National Park is more suitable for older children. (12 and above)
11) What to expect for this tour <name> ?
There is a 'Find Your Tour' widget on our homepage that fine-tunes your tour based on activity type, fitness level and duration. The variable is the weather of course. Know that our tropical climate can get very hot and humid during the tour. Hydration and rest stop is key for our cycling tours.
12) Will the weather be fine for this tour <name>?
No matter what time of year you visit, it is likely that you will encounter rain. There are often short bursts of heavy downpour in the afternoon. But it soon passes and leaves the rest of the day blessed with sunshine and clear skies.
The rainy season is between November and February each year. Peak rainfall is in December and January.
But this monsoon period should not deter visitors to the island as the weather is not cold. Using the right equipment keeps you dry, such as a raincoat, hat, and good shoes (with spares). 
High ocean waves affect offshore boat trips during the rainy season. Heavy flooding may affect some river tours such as kayaking. But land-based activities and tours won't be.
13) How far in advance do we have to book our tour/s?
You can join at the last minute if there is a departing tour at the time of your enquiry. Else there are two time frames; at least 24-hour or 72-hour lead time.
We have covered this matter in details in our last-minute tour blog
14) What can we do for X number of days in Kuching?
These are samples of what are possible for a couple. But this is not an exhaustive list.
Leisure: 2-day Annah Rais Longhouse Stay
Tour overview: City cycling tour + Adventure with an overnight stay at Annah Rais longhouse
Leisure: Bako National Park Overnight
Tour overview: Morning city tour and evening Kuching Wetlands cruise
Leisure: Kuching Getaway
Tour overview: Kuching city tour with an option to do it on a bicycle. Wildlife discovery for orangutan and crocodile
Adventure: Sarawak Adventure
Tour overview: Kuching city tour with an option to do it on a bicycle. A choice of on-road cycling adventure or kayaking.
Leisure: Kuching Getaway
Tour overview: Kuching City tour with an option to do it on bicycle. Wildlife discovery (orangutan and crocodile) 
Adventure: Sarawak Adventure
Tour overview: Kuching City tour with an option to do it on bicycle.  A choice of  on-road cycling adventure or kayaking. Orangutan wildlife discovery.
Leisure: Kuching Getaway
Tour overview: Kuching City tour with an option to do it on bicycle.
Wildlife discovery (orangutan and crocodile) and Brooke Gallery
Adventure: Sarawak Adventure
Tour overview:  Kuching City tour with an option to do it on bicycle. 
A choice of on-road cycling adventure  or kayaking. Orangutan wildlife discovery.
15) How much more do I pay to do a private tour?
We base our private tour on a party of four. You would have to pay for a pax cost if the group is less than four as an example. As this is akin to a tailor-made tour, we can create a custom itinerary to suit your needs.
16) Is there a discount if I buy more than one tour?
This depends on the number of pax and number of tours bought. As we deal with such requests on a case by case basis, please contact us to expand this conversation.  
17) How far away will this tour take place from Kuching?
A majority of our Kuching tours happen within a 92-km radius from the city.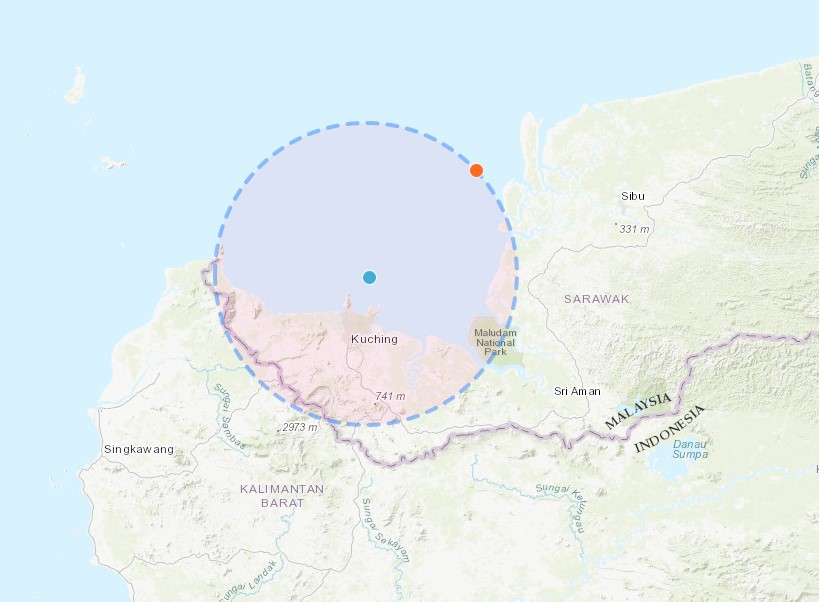 Note: You can find a range of FAQs not covered here. 
Brought to you by Team Paradesa