Last Minute Tours In Kuching, Mulu & Sabah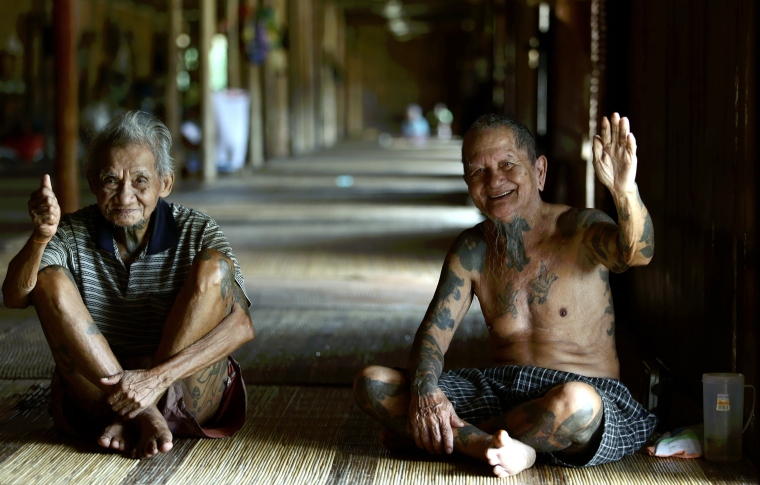 "Adventure is worthwhile." ~Aesop
Like any intrepid traveller, there would be times when you're short on time to get the most out of a destination. Or you got inspired to do a particular tour after hearing from a fellow traveller. And that time isn't on your side to do your own.
Yes, mobile devices have made immediacy a convenience nowadays. To be realistic though, last minute tours do not mean instant confirmation. We have two booking categories for tour confirmation. They come with a 24-hour and a 72-hour lead time.
As a local tour operator, we do not have the planning restrictions as an OTA would have. Here, we have put together our popular list in each category to guide your decision making.
A. For the solo traveller
This is our value. If you are a solo traveller or a couple, check with us to join in any of our daily confirmed departures. Even up to the last minute (literally) if your timing is right.  We have a whatsapp business account to reach out to 24/7.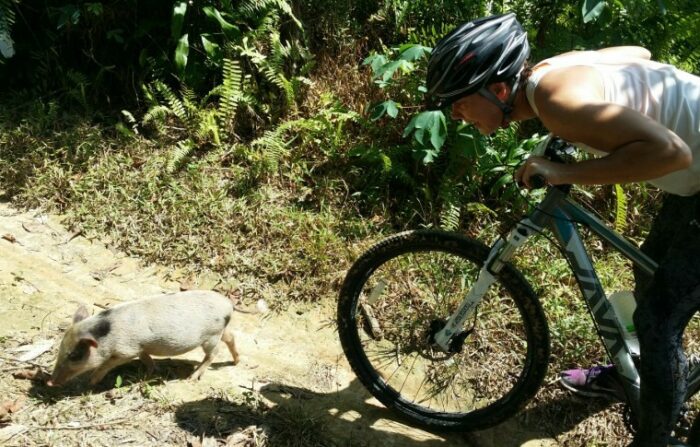 B. For 2 and above
With at least 24-hour lead booking time
Let's begin with our Kuching 'tour on foot' experiences. Feel our charm walking along our bustling old-world streets and markets. Taste our iconic street food, the Sarawak laksa and more. Sample street snacks and feel the ethereal beauty of our sunset from a traditional boat.
And finish off with a visit to a local bar to learn about Sarawak's unique tuak (rice wine) culture. You will be walking about 4.5 km in total.
 A Taste of Sarawak: Kuching Food on Foot 4-hour duration
 Sampan, sunset and tuak 3-hour duration
Our leisure bicycle tour series is a unique way to see the inner city of Kuching. They offer mixes of heritage, kampung, landscape and street food.
Best of Kuching: Heritage and Kampung Bike Tour – 4.5 hour duration
Sunset Kampung tour with Local Food – 3-hour duration
A Bite of Borneo by Bike – 4 hour duration
* 'Bike' means bicycle in our context.
Further from the city, our adventure cycling day tours touch your exploring spirit. Ride mountain biking trails based on your fitness level. You get to chill out in the cool pristine Semadang (in Singai) river too! Explore limestone show caves formed 60 million years ago.
Or see Borneo's iconic animal, the semi-wild orangutans of Semenggoh Nature Reserve.
These are your choices:
Mountain Biking Gold mine & Cave Discovery (off-road or on-road) – 7-hour duration
Mountain Biking – Jungle and River Adventure  5-6-hour duration
Borneo Outdoor Discovery: Orangutan, Off-road biking & Caves   8-hour duration
But enough of cycling you say. We've got you covered. These are our standouts sans cycling. Mother Nature have endowed Sarawak with varied flora and fauna.
Encounter semi-wild orangutan, spot diverse wildlife from a boat or explore mysterious caves.
Observe fauna in natural surroundings at Sarawak's first and oldest Bako National Park. Or get a tribal experience at a Bidayuh longhouse, Baruk headhouse included!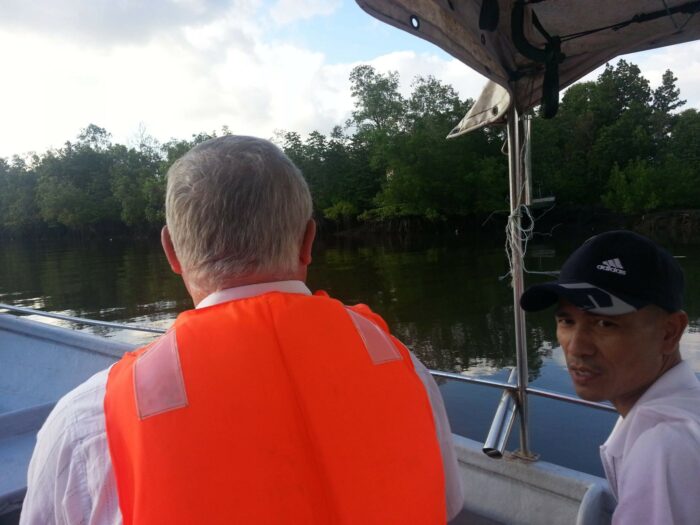 With at least 72-hour lead booking time
Our adventure offering is your oyster.  Stay the night at Sarawak's Bako National Park. Hunt for night critters that… well… only come out at night.
Over at Kubah National Park, search for endemic Bornean frogs… at night no less. Night tours can be fun btw.
We can even arrange a wildlife tour in our neighbouring state of Sabah to spot pygmy elephants.
The following are our popular tours.
Wildlife
2-Day Bako National Park – 2D/1N
Night Frog Hunting at Kubah National Park – 4-hour duration
Best of Borneo Wildlife: Orangutan, Turtle & Kinabatangan Sandakan, Sabah – 5D/4N duration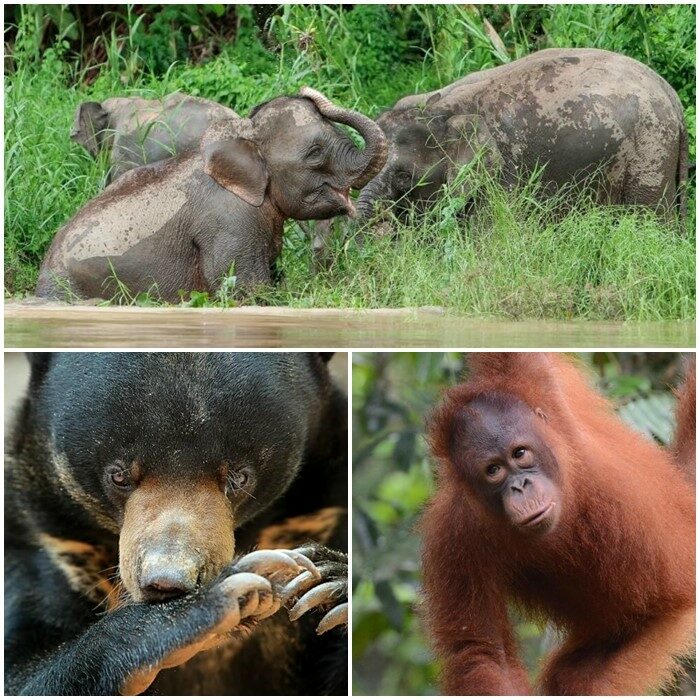 Cultural
5 hours from Kuching, experience tribal lifestyle when you stay with your Iban host. Be still in the silence of the jungle at Batang Ai.
3-Day Batang Ai Headhunter's Longhouse Discovery – 3D/2N-duration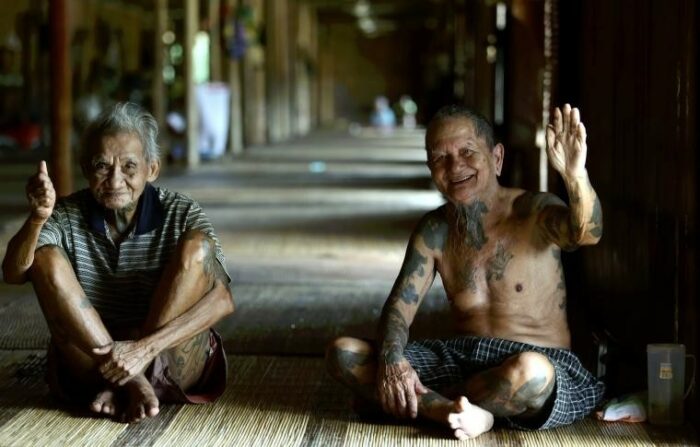 Nature
Hike up Sarawak's legendary Mt. Santubong (810m). It's tough and challenging, be warned! In Mulu, marvel at the splendour of the UNESCO World Heritage Show Caves.
Mt.Santubong Challenge 5 to 8-hour duration
3-Day Mulu Caves Explorer 3D/2N duration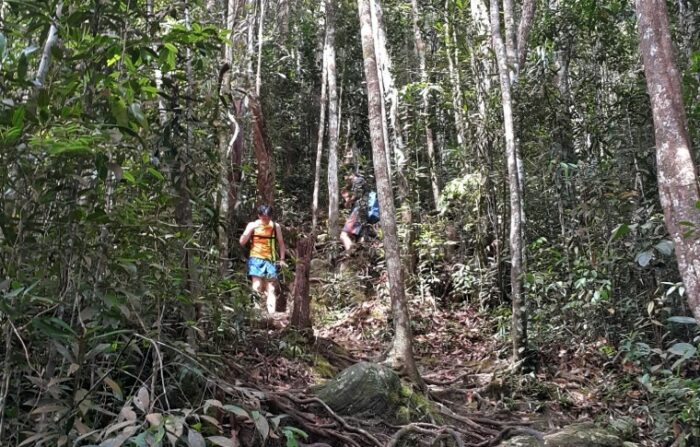 Cycling combo
We finish off our list with two cycling related tours. For the chef in you, combine our cycling tour with hands-on cooking lessons in Sarawak cuisine. Or do our ultimate holiday workout, mountain biking, kayaking and caving.
Ultimate Borneo: Off-Road Bike, Kayak, & Cave Adventure – 9-hour duration
Kuching Bike & Cook – 6 to 6.5-hour duration

Booking and Payment
We keep our tour group generally small (2-8) except for the city-based ones (2-16).  Our online booking system defaults to the respective tour close-out period (24/72 hour).
The quickest way to check with us for that last minute hop-on tour is via our Whatsapp business account. We will guide you how to book and pay online.
Brought to you by the Team Paradesa Borneo